Bicycles and pets, how to take your dog by bike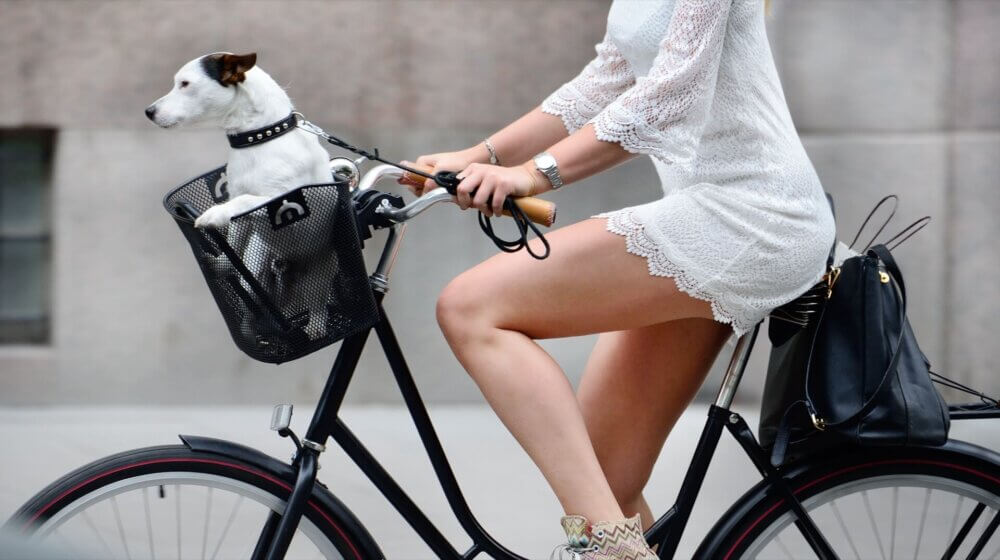 If you are thinking about taking your dog on a bicycle to do your errands together or simply to go for a bike ride without leaving your pet at home, here are some options with which you will be able to enjoy your dog and your bike minimizing risks.
One of the most useful options, and certainly the one we recommend the most, is a wicker basket or wooden box. This is the legal option to move it, with a safety leash and as long as your dog does not exceed approximately 10 kg.

To better anchor the basket so that your pet doesn't notice the bumps, we recommend you to fix the basket with a basket holder or some plates like these:
https://www.biciclasica.com/soporte-de-cesta-para-bicicleta-a-la-potencia.html
https://www.biciclasica.com/kit-de-pletinas-para-la-fijacion-para-cajas-o-cestas.html
You can also carry your dog on the luggage rack, another good option if your furry friend is quiet and is more suited to bike rides. You can even install a small rear-view mirror to keep an eye on it on the road!
These are some of the options of baskets and crates that we propose from Biciclasica, in which your dog can go comfortable and safe, while you control the movements at all times to be within your field of vision. In addition, you can add a safety strap or cover for complete peace of mind.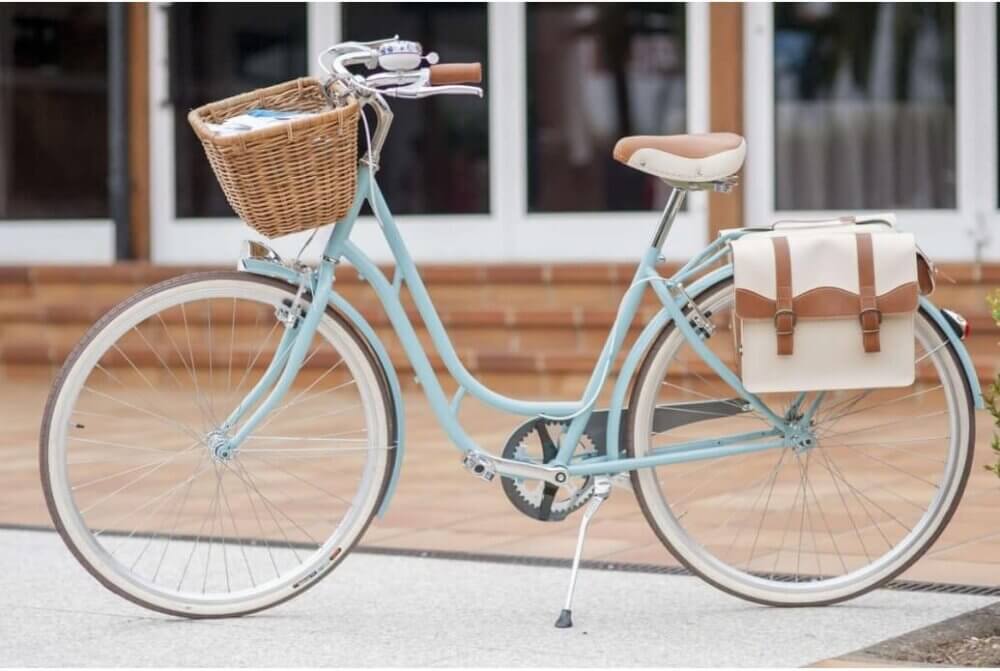 https://www.biciclasica.com/cesta-victoria-mimbre-ovalada-para-mascota.html
https://www.biciclasica.com/caja-de-madera-para-bicicleta-victoria.html
https://www.biciclasica.com/cesta-para-bicicleta-victoria-mimbre.html
https://www.biciclasica.com/cesta-victoria-mimbre-cuadrada.html
Another option is the well-known pet backpack. There are already many options of this type on the market, both for the bike and to move it to other places on foot, so it can be a useful and versatile item for everyday life.
https://www.tiendanimal.es/mochila-para-perros-gatos-ruedas-trolley-rodder-azul-p-12617.html
If your dog is very large, you can also add a trailer to your bike like the one used to carry larger weights or even small children. We recommend this option if your dog weighs up to 40 kg or needs to move around, as with the trailer he will have more freedom of movement while being protected by the grille against air and insects.
https://www.tiendanimal.es/transportin-remolque-para-bicicleta-p-15536.html
Despite all these options, keep in mind that the bike is a new element for him and he will need a progressive learning process to get used to the new rhythm and the pace of the bike, whether he is running beside you or riding in a basket or trailer.

Try to keep your first excursions short and to familiar places so that your dog doesn't feel particularly nervous and can enjoy the bike ride.