Biciclásica.com a different, unique and original online store.
A different e-commerce, our online store stands out for having unique and original products, we like to say that we are a company that pays special attention to the selection, the vast majority of the items we offer can not be found in other online cycling stores, or in general stores, many of the products you can buy for your bike on our website have been manufactured exclusively for us, or are directly manufactured by us, as Capri bikes that we have been offering for 10 years from our website to many customers around the world.


But the difference is not only in the product, we are also an online store with many advantages, such as our 1 day shipping for all orders on the peninsula, free returns on all our Capri bikes for Spain and Portugal and our close and direct customer service.
Europe's No. 1 online store for Classic Bicycles
Specialized store in urban cycling We have been the first European store specializing in classic bikes, we started already in 2009 with our acclaimed BLOG http://biciclasica.wordpress.com about classic bikes, and the work done during all these years has positioned us as a leading store in the urban cycling sector, offering the most careful selection of Vintage style urban bikes, components for the restoration of old bikes and accessories for classic bikes, all this always with a service and dedication to the customer that has allowed us to enjoy more than 10,000 positive verified opinions with 4.6 stars ratio.
Always the best prices on over 2000 products
But we have not only managed to establish ourselves as a leading store thanks to our product selection and level of service, since the early days when we started our website we have been able to offer the best prices without compromising the quality of the products, for this we focus on working directly with our manufacturers and eliminate intermediaries to pass the benefit to our customers.
In addition, in Biciclasica.com we pay much attention to reducing the carbon footprint and we focus on the logistics for both sales and purchases, trying to reduce unnecessary transport, consolidate purchases to optimize transport and improving packaging systems, such as eliminating unnecessary product presentation boxes and shipping so that all this is reflected in a long-term improvement in the environment and help reduce product costs.
More than 25,000 bicycles sold online in 10 years
Discover the advantages of our online store specialized in urban cycling
We are experts in urban cycling. Being a specialized store has many advantages, surely you feel much more comfortable buying on our website, if you can see that a real team of bicycle experts is behind the phone, in Biciclasica.com we are also regular users of bicycles to move around our city in Gijon, Asturias, and also many of us like to restore our classic bikes, customize them to our taste by changing handlebars, saddles, pedals or incorporating wicker baskets, luggage racks or simply adding to our Vintage bike some leather grips.
So you can find on our website the best brands of urban cycling and the components you need for your next project of restoration of old bikes, and if you have questions, contact us, we will be happy to answer your questions and advise you on your next purchase.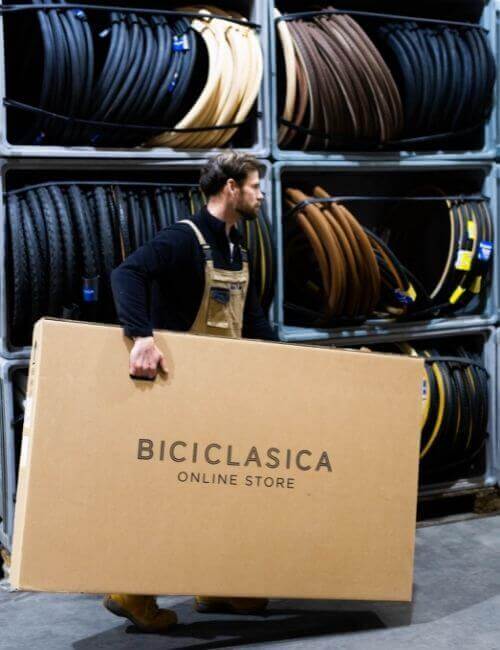 Experts in electric bicycles
Urban electric bicycles Yes, we are lovers of classic bicycles, we like them as an ideal solution to move around the city, they are very comfortable bicycles and designed to move comfortably around the city, so we have created a complete range of Electric Bicycles designed for the most sustainable and elegant urban mobility, if you still do not know our acclaimed Capri electric bikes, we invite you to discover them in this section: https://www.biciclasica.com/bicicletas/electricas all our electric bicycles are manufactured in Europe and designed here in Spain by our team of experts in electric bicycles.
As manufacturers of electric bicycles we can advise you on your next purchase and solve all your doubts, we are aware that buying an electric bike can be complicated, but we like simple things, and that is why we have created a line of e-bikes designed for comfort and ease of use, without additives and designed to move around the city with freedom